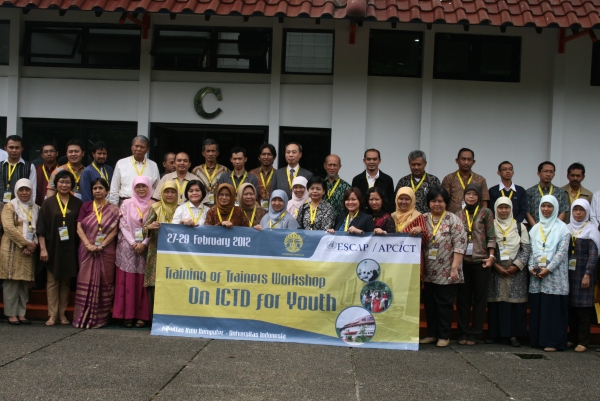 Date
Feb 27th 2012 - Feb 29th 2012
Location
Depok, Indonesia
APCICT partners with University of Indonesia to train professors on new ICTD curriucla for youth, and delivers keynote address at government training workshop organized by the Indonesian Ministry of Communication and Information Technology
Depok, Indonesia (UN-APCICT/ESCAP) – Working to bridge the digital divide, over 50 professors and trainers from universities across Indonesia and 60 government officials from various ministries are taking part in ICT capacity development workshops based on United Nations programmes.
On 27-29, the Asian and Pacific Training Centre for Information and Communication Technology for Development, (APCICT), a regional institute of the United Nations Economic and Social Commission for Asia and the Pacific (ESCAP), and the University of Indonesia (UoI) are organizing a workshop to train university educators on new ICTD curricula for youth.
The Indonesia Training of Trainers Workshop on the "Primer Series on ICTD for Youth" (Primer Series) will deliver training on APCICT's Primer 1: "An Introduction to ICT for Development".  Officially launched 3 weeks ago in Azerbaijan, the Primer Series is part of APCICT's flagship capacity building initiative engaging youth, the "Turning Today's Youth into Tomorrow's Leader Programme". The Primer Series aims to expand coverage of ICT for development content in university curricula and provides a tool to help educators deliver ICTD capacity building education in institutions of higher learning.
"Developing the ICT capacities of the next generation of leaders is a task that cannot be accomplished alone", said Mr. Guejo Jo, Senior Programme Officer of APCICT. "It is very encouraging to work with such a diverse and enthusiastic cadre of professionals to help achieve this important goal."
Over 50 professors and trainers from the University of Indonesia, Institut Teknologi Bandung, Institut Teknologi Sepuluh November Surabaya, Universitas Diponegoro, Institut Pertanian Bogor (IPB), Universitas Pancasila, as well as the National University of Timor-Leste are participating in the 3-day workshop at the University of Indonesia's Depok Campus.  Virtual participants from 4 other universities from across Indonesia are also receiving workshop training through the use of video conferencing technologies.  The participants will go forward to deliver ICTD education in their own institutions of higher learning, as well as train additional professors and trainers on Primer Series content.
"The University of Indonesia is very pleased to be facilitating educators from throughout Indonesia in their dedicated efforts to provide our youth with the appropriate ICT tools to help meet national development goals," said Mr. Muhammad Anis, Vice Rector of UoI.
In partnership with APCICT, the University of Indonesia is taking the lead to translate the Primer Series into Bahasa Indonesia and customize its content to meet local contexts.  In September, UoI plans to distribute the localized version of Primer 1 to over 4,500 of its first-year students. 
APCICT and UoI have a history of collaboration dating back to 2009, when both organizations partnered with the Ministry of Communications and Information Technology of Indonesia (MCIT) to launch the "Academy of ICT Essentials for Government Leaders Programme" (Academy), APCICT's flagship capacity building initiative targeting policymakers.
APCICT and MCIT continue to work together to develop the ICT capacity of government officials through the Academy programme.  On 29 February, APCICT will deliver the Keynote Address at the CIO Training and Certification workshop in Jakarta, organized by MCIT's ICT Research and Human Resource Development Agency. The CIO Training and Certification programme utilizes a number of Academy modules in combination with other ICT capacity building resources to train and certify government officials with basic ICT competencies.
The Academy programme was launched in 2008 and has been rolled-out in 22 countries across the Asia-Pacific region.  The Academy's 9 training modules cover a wide-variety of ICT topics, and are designed to equip government officials with the tools to leverage ICT for development.