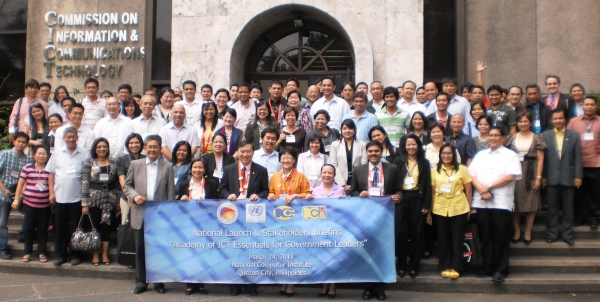 Location
Quezon City, Philippines
Over 150 senior government officials and representatives of academia join APCICT and NCI for meeting on information and communication technology (ICT) capacity development in the Philippines.
The United Nations Asian and Pacific Training Centre for Information and Communication Technology for Development (UN-APCICT/ESCAP), has partnered with the National Computer Institute (NCI) to launch training programme to help strengthen the capacity to use ICT for socio-economic development in the Philippines.
The National Launch and Stakeholders Briefing of the "Academy of ICT Essentials for Government Leader's Programme" (Academy) by NCI was held today at the National Computer Institute in Quezon City, Philippines, to introduce APCICT's Academy programme to over 150 officials from national government agencies, local government districts, state universities and colleges, and private universities. The Academy is designed to equip government officials with the skills needed to fully leverage ICT for socio-economic development.
NCI will work closely with APCICT to implement Academy content into training courses and workshops to be organized for mid-level government officials in the Philippines over the coming years. NCI is the training arm of the National Computer Center (NCC), which is under the Commission of Information and Communications Technology (CICT) of the Philippines.
"The launch of the Academy reaffirms the commitment of the Government of the Philippines to building the necessary human resource capacity to effectively utilize ICT for national development," said Dr. Hyeun-Suk Rhee, Director of APCICT, who presided over the opening session of the launch with Ivan John E. Uy, Chairmen of CICT, and Juli Ana Sudario, Deputy Director-General of NCC.
"The Government of the Philippines is very pleased to partner with an institution dedicated to helping our country develop its ICT capacity" said John E. Uy, Chairman of CICT. "We are confident that NCI and APCICT will work together successfully through the Academy programme to strengthen the ability of government officials to use ICT to help meet socio-economic development goals".
The Academy launch included two parallel briefings on the Academy programme, facilitated by local resource persons working with APCICT to deliver Academy training in the Philippines and the Asia-Pacific region.
The Academy, first introduced in the Philippines in 2009, in collaboration with the Career Executive Service Board (CESB) of the Government of the Philippines, has been launched in 18 countries in the region.