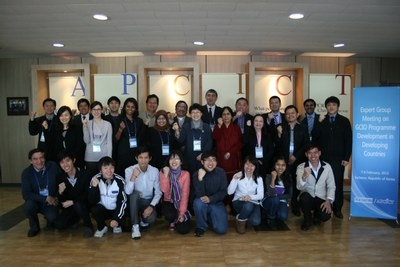 Date
Feb 5th 2013 - Feb 8th 2013
Location
Incheon, Republic of Korea
APCICT convenes regional experts from government, academia, and civil society for consecutive expert group meetings to enhance its ICTD capacity building programmes.
Emerging topics in ICT for development (ICTD) were at the heart of discussion, as the Asian and Pacific Training Centre for Information and Communication Technology for Development (UN-APCICT/ESCAP) organized back-to-back Expert Group Meetings from 5-8 February 2013. The two Meetings, which ran for two days each, convened experts and stakeholders around the region for a dynamic discussion on two of APCICT's ICTD capacity building programmes.
From 5-6 February, APCICT welcomed eleven field experts and government officials from India, Indonesia, Korea, Nepal, and the Philippines to evaluate and plan the development of the upcoming training module on Social Media for its flagship programme, the "Academy of ICT Essentials for Governments Leaders Programme" (Academy). The Meeting participants discussed ways to further revise and enrich the module, which had earlier been reviewed by over 30 national and regional level stakeholders from 20 countries during the Fourth Academy Partners Meeting in November, 2012. The participants also collaborated to suggest a roadmap for finalizing and rolling-out the Academy module at regional and national levels.
From 7-8 February, APCICT invited thirteen programme partners and other distinguished experts from Cambodia, India, Indonesia, Kyrgyzstan, Mongolia, and the Philippines, as well as a senior adviser from the United Nations University International Institute for Software Technology, for a Meeting regarding the APCICT Knowledge Sharing Series, which is intended to complement the broader ICTD framework provided by the Academy modules. Its third and latest publication, currently under development, will focus on the topic of Government Chief Information Officers (GCIO) programme development in developing countries. The participants examined the draft outline of the upcoming KSS issue, shared good practices and experiences in developing GCIO programmes, and developed a plan for future regional implementation, including advisory services in numerous countries in Asia and the Pacific.
Participants shared good practice experiences in developing GCIO programmes, and devised a plan for future KSS regional implementation that included an advisory service for various countries in Asia and the Pacific. Furthermore, university students from ASEAN countries currently undergoing a mentoring and work exposure programme at APCICT were invited to attend some sessions of the two meetings and gain valuable insights in ICTD from the field experts present.
"These Expert Group Meetings provided an arena for regional stakeholders and experts not only to contribute insights to APCICT's ICTD programmes but also to ponder the future of regional development in the context of emerging concepts such as social media and the systematic training of government Chief Information Officers," explained H.E. Enkhbold Zurgaanjin, Vice-Chairman of Information Technology, Post and Telecommunication Authority of Mongolia.
The Academy programme, which features ten interlinked modules with two more under development, was first launched in June, 2008 during the OECD Ministerial Meeting on the Future of the Internet Economy in Seoul, Republic of Korea. Since then, the Academy has been rolled-out in 26 Asia-Pacific as well as Africa and the Middle-East. It is available in 9 languages and has reached over 17,000 participants through face-to-face and online course enrolments. The KSS was officially launched in July 2012, and two issues have so far been produced under the Series on the topics of ICTD institution building and cybersecurity.