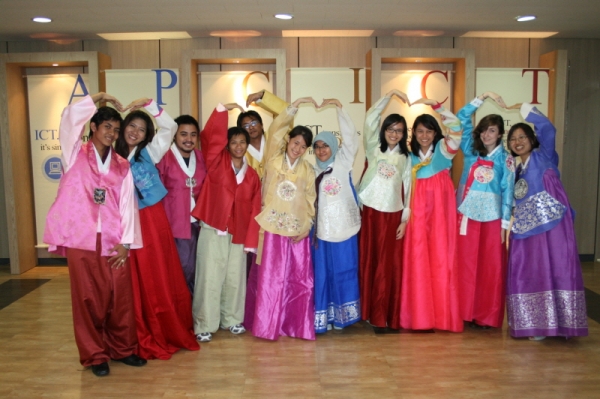 Location
Incheon, Republic of Korea
Students from ASEAN countries and the United States enjoy unique presentation on Korean history and culture at APCICT
Incheon, Republic of Korea - Eleven students from ASEAN countries and the United States today enjoyed a special lesson on Korean history and culture at the Asian and Pacific Training Centre for Information and Communication Technology for Development (UN-APCICT/ESCAP), in Incheon, Republic of Korea.  The event was organized by the Korean Sprits and Culture Promotion Project (KSCPP), a non-profit organization, and introduced the students, participating in APCICT's ICTD for Youth Program (ICTD4Y), to the Korea of both past and present. Students learned about some of Korea's oldest and most intriguing artifacts, such as the 1400 year old Sari Casket and Buddhist inspired Tripitaka Koreana, and watched videos introducing Korea's present-day, state-of-art construction and IT industries. The students also experienced Korean culture hands-on—learning how to do Saebae, the Korean traditional bow, trying on Hanbok, traditional Korean clothing, and tasting a variety of Korean traditional snacks. Students tried Sikhye, a cold drink made of rice, malt and sugar, several varieties of Ddok, or rice cake, and Soojeongwa, a cold cinnamon and ginger tea garnished with persimmon and pine nut.
"I enjoyed trying on the Hanbok very much" said Hang Po, an undergraduate student from Vietnam, "It was nice to learn more about Korean culture— the Hanbok was very beautiful, and compared to our usual clothing, which is much tighter, it was comfortable, too!"
The ICTD4Y programme provides students with a 2-3 month work-exposure experience at APCICT in the field of ICT research and capacity building in order to strengthen the ICTD capacity of the region's next generation of leaders.  The programme is carried-out in partnership with Korea's Daejon University, Korea Univeristy, the Ministry of Foreign Affairs and Trade of the Republic of Korea, and the ASEAN University Network.