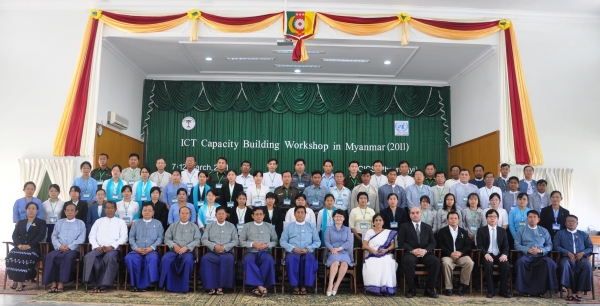 Date
Mar 7th 2011 - Mar 12th 2011
Location
Phaunggyi, Myanmar
Working to enhance the country's human resources and institutional capacity, APCICT and Myanmar collaborate to train over 50 government officials and close to 1000 representatives from academia.
The Asian and Pacific Training Centre for Information and Communication Technology for Development (UN-APCICT/ESCAP), a regional institute of the Economic and Social Commission for Asia and the Pacific, has collaborated with the Civil Service Selection and Training Board (CSSTB) of Myanmar to train government officials and enhance academia's awareness of ICT for development through a capacity building workshop and lecture.
The Second ICT Capacity Building Workshop welcomes over 50 mid-level government officials and trainers from 21 ministries, such as the Ministry of Defence, Ministry of Agriculture and Ministry of National Planning and Economic Development, and will deliver training on emerging ICT trends for government leaders, information security in today's digital age, and ICT project management. The six-day workshop is being held at the Central Institute of Civil Service in Phaunggyi, Myanmar from 7– 12 March.
Myanmar has been working to strengthen nationwide ICT infrastructure through a series of development projects, such as the Yatanarpon cyber city and national fibre network system. To meet the demands of ICT infrastructure growth, Myanmar has accorded importance to the development of ICT human resources and institutional capacity.  CSSTB, in partnership with APCICT, plans to deliver ICT training on a yearly basis to help enhance the ICT for development (ICTD) knowledge and skills of Myanmar's government officials.
"This second training workshop demonstrates the importance Myanmar has placed on effectively using ICT for national socio-economic development," said Dr. Hyeun-Suk Rhee, Director of APCICT. "APCICT is very pleased to continue its collaboration with CSSTB to help strengthen Myanmar's ICT capacity."
The Workshop builds upon last year's successful launch of the "Academy of ICT Essentials" programme (Academy) in Myanmar, which is APCICT's flagship capacity building programme designed to provide government officials and development stakeholders with the knowledge and skills to fully leverage ICT for socio-economic development. The Academy has been launched in 18 countries throughout the Asia-Pacific region.
To facilitate Academy training CSSTB has taken steps to translate Academy content into Myanmar language and showcased translated versions of modules 1,2, and 3, and all 8 APCICT briefing notes during the opening session of the workshop. The APCICT Briefing Note Series is designed to provide senior-government officials and policymakers to with concise yet detailed analysis of ICT for development related issues and topics.  Each briefing note is drawn from an existing Academy module.
In an effort to bring awareness on ICTD to a wider audience in Myanmar, APCICT and CSSTB today also concurrently kicked-off an "Awareness Lecture on ICT for Development" at the same venue in Phaunggyi.  The part-time lecture invites close to 1,000 lecturers, professors, and other representatives from academia, and is designed to help bring the benefits of ICTD learning to students and youth in Myanmar. The lecture highlights the linkage between ICT and socio-economic development, and is part of CSSTB's refresher course regularly offered to academics in Myanmar.
The lecture also introduces APCICT's "Strengthening ICTD Education in Institutions of Higher Learning" project, which aims to enhance coverage of ICTD in tertiary education curricula through advocacy to policymakers, academic networks and other relevant stakeholders in the Asia-Pacific region.