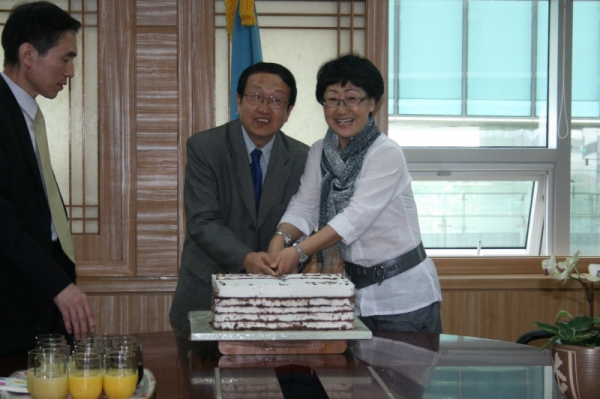 Location
Incheon, Republic of Korea
APCICT celebrates 4th Anniversary with reception for ESCAP officials
The United Nations Asian and Pacific Training Centre for Information and Communication Technology for Development (UN-APCICT/ECAP) celebrated its fourth anniversary today by welcoming visitors form ESCAP's Bangkok offices. Dr. Hyeun-Suk Rhee, Director of APCICT, hosted a friendly reception for Mr. Xuan Zengpei, Director of the Information and Communications Technology and Disaster Risk Reduction Division (IDD-ESCAP), and three other ESCAP officials form Bangkok, in Incheon, Republic of Korea.
APCICT's 4th Anniversary comes weeks after the 66th Session of ESCAP, held in Incheon, Republic of Korea, passed a resolution of continuation that will extend APCICT's mission to help ESCAP member States achieve socio-economic development through the use of ICT beyond its original five-year mandate.
"APCICT is happy to celebrate its 4th Anniversary with the knowledge that the important work of the Centre will continue well into the future," said Dr. Rhee. "APCICT looks forward to working with its many partners to continue strengthening ICT human resource capacity in the Asia-Pacific and beyond".
 
APCICT, one of five regional institutions of ESCAP, was established in 2006 with a mission to build the capacity of ESCAP member and associate member States through training programmes in the use of ICT for the purpose of sustainable development. For the last four years, APCICT has worked to enhance the human resource and institutional ICT capacity of ESCAP member and associate members States by providing training, advisory, research and knowledge sharing services to government partners, academia, non-governmental organizations and other capacity building organizations.