Published: Apr 05, 2019 6:00 PM
In cooperation with the Ministry of Education, Youth and Sports and the National One Village One Product Committee under the Council for Agricultural and Rural Development, APCICT co-organize the National Workshop; An Overview of ICTs and Sustainable Development. This workshop will be held on 2 May 2019 at the Office of the Council of Ministers in Phnom Penh, Cambodia.
Published: Apr 05, 2019 2:00 PM
In collaboration with the National Institute of Posts, Telecommunications and Information Communication Technology, APCICT is co-organizing the National Training of Trainers on Data-Driven Governance on 30 April - 3 May 2019 at the Ministry of Posts and Telecommunications in Cambodia.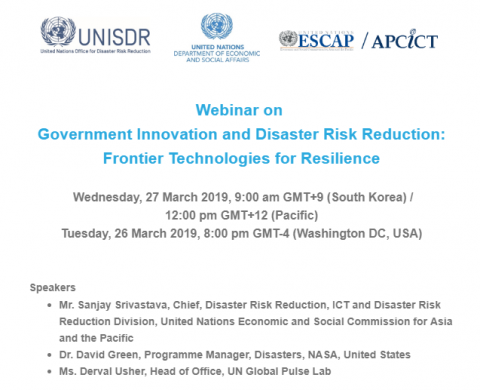 Published: Mar 22, 2019 12:45 PM
Objective
This webinar explores how governments can leverage frontier technologies for Disaster Risk Reduction (DRR) and resilience, profiling success cases and addressing the barriers to scaling these innovations across developing country contexts.