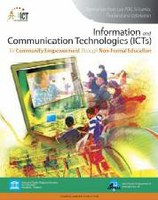 This report presents country and regional experiences from ICT for community empowerment through community learning centres (CLC) projects of UNESCO. It highlights experiences using radio, load speakers, computers, CDs, video and digital cameras. It also includes lessons learnt, as well as a synthesis of experiences from the four countries documented: Lao PDR, Sri Lanka, Thailand and Uzbekistan.
The report finds that factors important for the success of these projects include: involvement by everyone in the community, especially young people; networking with technical agencies; flexible training, including mobile training teams; local materials generated with ICT tools; and visual documentation for monitoring and evaluation.
Existing challenges to project implementation include: a lack of infrastructure; there is often a narrow view of ICTs only meaning computers and the internet; there is a certain belief that ICT tools are given by outside experts rather than developed locally; information exchange is not always systematic or easily accessible; and language barriers, since English literacy is needed to access the global online information network.
© UNESCO Asia and Pacific Regional Bureau for Education, 2005, 34 pages ISBN 92-9223-045-X