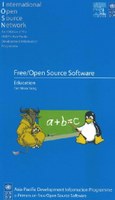 This e-primer covers the use of free/open source software (FOSS) from schools to universities. It provides a brief overview of how FOSS can help in setting up the information technology (IT) infrastructure and administration of educational institutions. It considers software (mainly proprietary) that is now used as the basis for IT curricula and FOSS alternatives that are available.
The primer can be downloaded from the following links:
 This work is licenced under a Creative Commons Attribution 2.0 license.
© UNDP-APDIP, Elsevier, 2004, 40 pages ISBN 81-8147-565-8