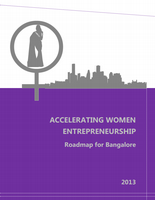 This study is part of a strategic initiative titled, 'Accelerating Women Entrepreneurship: A Roadmap to 2020'.
It was conducted to gain an overview of the current state of the entrepreneurial environment for women entrepreneurs and to provide a course of action. The objectives are:
 - to evaluate the ecosystem for women entrepreneurs
 - to identify major challenges being faced by women entrepreneurs in starting and expanding their business
 - to formulate Roadmaps, outlining the various programmes, activities and policies required to develop a strong ecosystem to facilitate women's entrepreneurship
87% of the women find access to markets to be the biggest challenge during start up and expansion phases, followed by access to finance at 76%. 
© GIZ, 2013