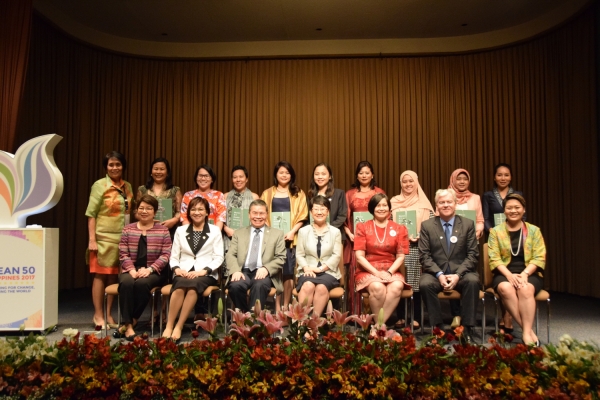 Date
Aug 28th 2017 - Aug 30th 2017
Organizer
APCICT/ESCAP, the ASEAN Women Entrepreneurs Network (AWEN), ASEAN Secretariat, Philippines Commission on Women (PCW), and the Department of ICT of the Philippines (DICT)
Location
Manila, Philippines
The Asian and Pacific Training Centre for ICT for Development (APCICT/ESCAP), in cooperation with the ASEAN Women Entrepreneurs Network (AWEN), Philippine Commission on Women (PCW), and Department of ICT of the Philippines (DICT) and with support from the ASEAN Secretariat, launched the Women ICT Frontier Initiative (WIFI) for the ASEAN Sub-Region on 28 August 2017 at the Philippine International Convention Centre (PICC) in Manila.
The WIFI launch was held in conjunction with the ASEAN Women's Business Conference and other related meetings took place from 28 August to 1 September 2017, in commemoration of the 50thFounding Anniversary of ASEAN. It was attended by high-level government officials and representatives of ICT and gender ministries from ASEAN countries as well as women entrepreneur associations, national government agencies, and other relevant stakeholders in the areas of entrepreneurship and women's empowerment.
Following the launch, a WIFI Training of Trainers (TOT) for policymakers and women entrepreneurs was organized on 29-30 August 2017. The TOT aimed to expand the pool of trainers and resource persons in Southeast Asia and who can help bring the WIFI training programme at the national and community levels.
Bilateral meetings between representatives of ASEAN countries and APCICT/ESCAP were held throughout the occasion to discuss WIFI implementation plans and strategies. A Philippine WIFI Stakeholders Group meeting was also organized on 30 August to facilitate dialogue on how to strengthen its WIFI implementation.
About the Women ICT Frontier Initiative (WIFI)
Launched in June 2016, WIFI is APCICT's flagship ICT capacity development programme for promoting women entrepreneurship. It aims to strengthen the capacity of current and potential women entrepreneurs in Asia and Pacific on utilizing ICT in support of their businesses. The programme also enhances the capacities of government leaders and policymakers to create an enabling environment for women entrepreneurs through appropriate policies and support programmes. More information is available at www.unapcict.org/wifi