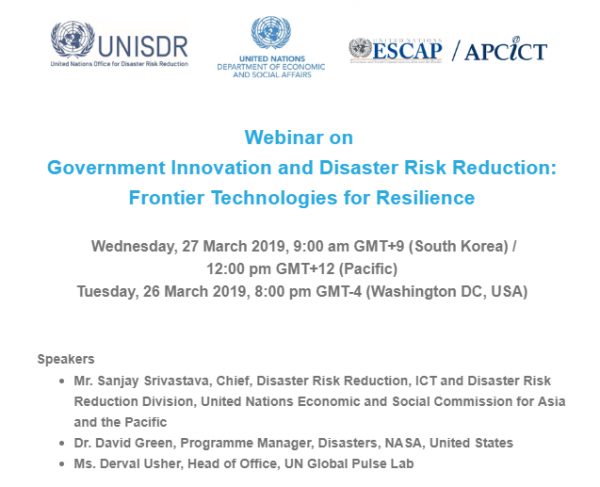 Organizer
APCICT/ESCAP, UNISDR, United Nations Department of Economic and Social Affairs
Objective
This webinar explores how governments can leverage frontier technologies for Disaster Risk Reduction (DRR) and resilience, profiling success cases and addressing the barriers to scaling these innovations across developing country contexts.
Background
Frontier technologies present rapidly evolving opportunities to ensure resilience across developed and developing countries. Governments are increasingly leveraging frontier technologies to ensure resilience and mitigate disaster and climate risks.  Amid a changing climate, threats from disasters are multiplying with the potential to set back progress towards achieving the Sustainable Development Goals (SDGs). 
Notwithstanding the great potential of digital technologies in strengthening resilience and reducing vulnerability across countries, it is essential that technologies especially frontier technologies are appropriate and transferable to the most local and vulnerable contexts. The webinar will also address the key barriers that arise in technology transfer, along with risks, vulnerabilities, and solutions to accelerate the use of frontier technologies in public services.
Key Questions to be Addressed
Scanning the frontier technology horizon, what technological innovations are effectively ensuring resilience and DRR today?
How are frontier technologies being applied in vulnerable country contexts to ensure resilience?
What are the key barriers to scaling these technologies, noting typical challenges from capacity development and digital skills, finance and property rights areas?
How can governments address these barriers and accelerate the use of these solutions for DRR and resilience?