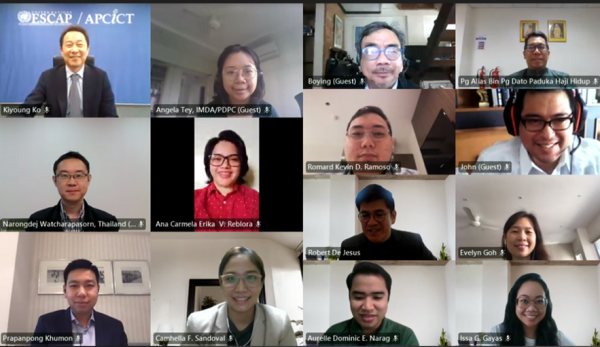 Date
Nov 30th 2020 - Dec 3rd 2020
Organizer
APCICT/ESCAP, National Privacy Commission (NPC), Republic of the Philippines
In an effort to help ASEAN Member States enhance their data privacy regimes, APCICT organized a virtual training seminar on "Data Privacy Laws in ASEAN", in collaboration with the National Privacy Commission (NPC) of the Republic of the Philippines, from 30 November to 3 December 2020.
The webinar sought to deepen understanding of participants on data privacy regimes and to facilitate knowledge-sharing among ASEAN Member States that have privacy laws and those who do not have said legislation. It also aimed to foster cooperation in developing a harmonized legal environment in ASEAN by identifying key elements of digital privacy laws. The event was attended by 34 representatives from ICT Ministries, National Privacy Commissions, e-Government Centers and other Governmental agencies of ASEAN Member States.
The meeting was opened by Dr. Evelyn Goh, Director (International Policy and Strategy), Infocomm Media Development Authority (IMDA), Singapore and Chair of the ASEAN Data Protection and Privacy Forum (ADPPF), and Dr. Kiyoung Ko, Director of APCICT/ESCAP.
The webinar introduced to the participants the various international legal frameworks of data regulation, as well as the role of independent privacy regulators. Throughout the four sessions, representatives from the Philippines, Singapore and Thailand presented on the data privacy regimes of their respective countries. In addition, participants discussed the prospects of PDP legislation in other ASEAN Member States, namely Brunei Darussalam, Indonesia, and Myanmar. 
The event concluded with closing remarks from Mr. Raymund E. Liboro, Chairman of the National Privacy Commission (NPC) of the Philippines who emphasized not only the challenges faced by ASEAN but also the prospect of regional cooperation and successful private data protection. Mr. Liboro addressed the imminent private data threats following the COVID-19 pandemic. He assured that with continued cooperation and resilience, the ASEAN will build the bridge towards the common values of individual rights and digital privacy. 
As a way forward, three main lines of actions have been identified: Organizing seminars on data privacy for ASEAN Member States at the national level, providing technical assistance in terms of legislation formulation and engaging in cross-border enforcement through more technical webinars.