Upcoming Events
Upcoming Events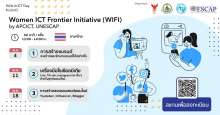 Published: Apr 19, 2021
Event Date: May 04, 2021 - May 18, 2021
As part of the 2021 Girls in ICT Day celebration in Thailand, APCICT/ESCAP is conducting trainings based on its Women ICT Frontier Initiative (WIFI) programme under the Entrepreneurship Track, with the objective of enhancing the knowledge, skills and abilities of young women and girls in using ICT tools and applications to support e-commerce startup and management.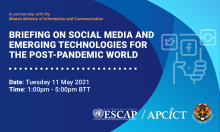 Published: Apr 12, 2021
Event Date: May 20, 2021
Social media has emerged in recent years as a powerful and widespread communication platform, and is now being used in a wide range of areas such as public administration, rural development, environmental protection, education, public health, combating corruption, and disaster communication and management, among others. The COVID-19 pandemic has highlighted the critical role of technologies in moving forward to the new normal, as countries and organizations are leveraging emerging technologies to redefine work and Build Back Better.