Upcoming Events
Upcoming Events
Published: Jun 15, 2022
Event Date: Jul 04, 2022 - Jul 07, 2022
The Asian and Pacific Training Centre for ICT for Development (APCICT/ESCAP) will be organizing the Capacity Building Webinar on Digital Government and Transformation for North and Central Asia on 4-7 July 2022. The event is targeted to managers and mid-level professionals from central and local governments as well as government officials responsible for the development and implementation of digital initiatives in North and Central Asia.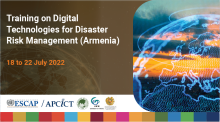 Published: Jun 16, 2022
Event Date: Jul 18, 2022 - Jul 22, 2022
Asia and the Pacific is among the world's most disaster-impacted regions and the number of disasters caused by the natural hazards in the region has increased drastically in recent years. The use of ICTs during all phases of disaster risk management presents substantial opportunities to reduce disaster risks, enhance resilience, and facilitate inclusive preparedness and response.