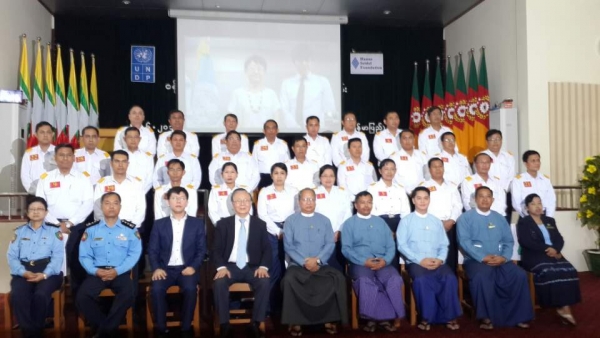 Date
Jul 6th 2015 - Jul 17th 2015
Location
Republic of the Union of Myanmar
In July 2015, APCICT organized two capacity building initiatives on ICT for development targeted to senior government officials and professors from institutions of higher learning of the Republic of the Union of Myanmar.
In partnership with the Union Civil Service Board (UCSB), the Academy Workshop for Government Executive Officials was held on 6-10 July 2015 at Central Institute of Civil Service (Upper Myanmar). The workshop was part of an 8-week Government Executive Officials Management Course initiated and organized by the President of the Republic of the Union of Myanmar for the country's senior government officials.
The Academy workshop covered the following topics: e-Government Application, Internet Governance, Network and Information Security and Privacy, ICT and Project Management, and Social Media for Development. Marking APCICT's fifth Academy training in the country since 2010, the workshop was attended by Director-Generals and Deputy Director-Generals from various ministries and agencies.
On 13-17 July 2015, a National Training of Trainers (TOT) on Primer Series 2: Project Management and ICTD was convened in Yangon in collaboration with the University of Computer Studies. The five-day workshop, attended by professors and educators from 20 universities, aimed to strengthen capacities of the participants on how to leverage ICT in project planning and management, especially in the context of promoting socio-economic development. The TOT helped participants integrate the Primer Series in university curricula, thereby contributing to the expansion of ICTD education in institutions of higher learning in Myanmar.
       <Photo of the National TOT on Primer Series 2>