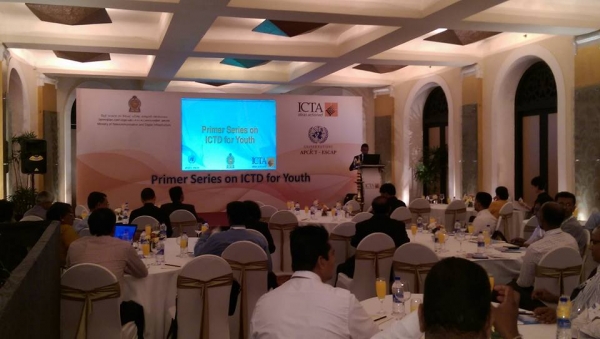 Organizer
The Asian and Pacific Training Centre for Information and Communication Technology for Development (APCICT) and the Information and Communication Technology Agency of Sri Lanka
The Asian and Pacific Training Centre for Information and Communication Technology for Development (APCICT) and the Information and Communication Technology Agency of Sri Lanka co-organized High Level Briefing on the Primer Series on ICTD for Youth on 29 September 2016. The Briefing took place in conjunction with the national launch of Women and ICT Frontier Initiative (WIFI) in Sri Lanka.
The Briefing brought together over 60 representatives from Ministry of Higher Education and Highways, University Grant Commission and academia. It aimed to increase the adoption and integration of Primers Series on ICTD for Youth in university curricula in Sri Lanka. It also provided an opportunity for educators to learn more about linking classroom learning to development through the practice of Engaged Learning..
About the Primer Series on ICTD for Youth
APCICT's second flagship programme is called "Turning Today's Youth into Tomorrow's Leaders" (TTYL).  It aims to create future leaders who possess a sound understanding of the role of the ICT in promoting sustainable development. The programme seeks to impart key knowledge of ICT for sustainable development to students and youth.  Within the TTYL programme, APCICT introduced the Primer Series on ICTD for Youth (Primer Series) to provide learning resources on ICTD for institutions of higher education in Asia and the Pacific. This will help expand the coverage of ICTD education in curricula of colleges and universities.