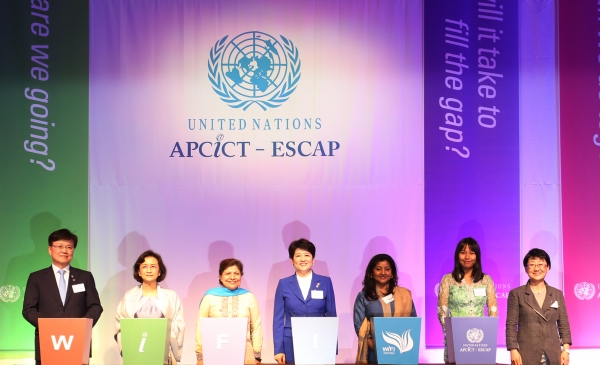 Organizer
The United Nations Asian and Pacific Training Centre for Information and Communication Technology for Development (UN-APCICT), a regional institute of the United Nations Economic and Social Commission for Asia and the Pacific (ESCAP)
Location
Regional Forum on ICT Human Capacity Development in Incheon, Republic of Korea
The United Nations Asian and Pacific Training Centre for Information and Communication Technology for Development (UN-APCICT), a regional institute of the United Nations Economic and Social Commission for Asia and the Pacific (ESCAP), launched the 'Women and ICT Frontier Initiative' (WIFI) on June 9 at the Regional Forum on ICT Human Capacity Development in Incheon, Republic of Korea.
WIFI aims to create socially and economically-empowered women through ICT-enabled entrepreneurship, supporting women entrepreneurs by enhancing their knowledge and skills in business management and ICT usage. The initiative also aims to strengthen the capacity of government leaders and policymakers to create an enabling environment for women entrepreneurs through gender responsive policies, programmes and services.
"WIFI is a much-needed programme that can have a transformative impact on the lives of women entrepreneurs, their families, and their communities," said Dr. Shamshad Akhtar, United Nations Under-Secretary-General and Executive Secretary of ESCAP during her opening remarks. "The success of women generates ripple effects, from increased household savings and investment in children's health and education, to boosting job creation, which can contribute significantly to a country's socio-economic growth."
At the launch, partners from government and civil society highlighted how WIFI can benefit current and aspiring women entrepreneurs in Cambodia, Pakistan, the Philippines, Sri Lanka and Tajikistan through various WIFI roll-out activities. Technology companies including Google, Microsoft and Intel also presented their initiatives and emphasized how they can collaborate and support women entrepreneurship through ICT, including for the WIFI project.
WIFI is the third flagship programme of UN-APCICT, with the mandate of strengthening capacities of member States on using ICT for sustainable development (ICTD). Since its establishment in June 2006, the Centre has been providing ICTD capacity building projects for government leaders, civil servants, students and youth.
Marking APCICT's 10th anniversary, the Regional Forum on ICT Human Capacity Development is being held from 9 to 10 June 2016, in Incheon, Republic of Korea. More than 200 participants including high-level officials and representatives from government, academia, civil society, international organizations and the private sector from over 50 countries in the region are participating.
The Forum is also an occasion for the Centre, its partners and other stakeholders to reflect on their collective achievement in ICTD human capacity building in the last decade, to renew their commitment and chart a vision for ICT capacity development aligned with the 2030 Agenda for Sustainable Development.
The event is supported by the Ministry of Science, ICT & Future Planning, Incheon Metropolitan City, and the National Information Society Agency of Republic of Korea.