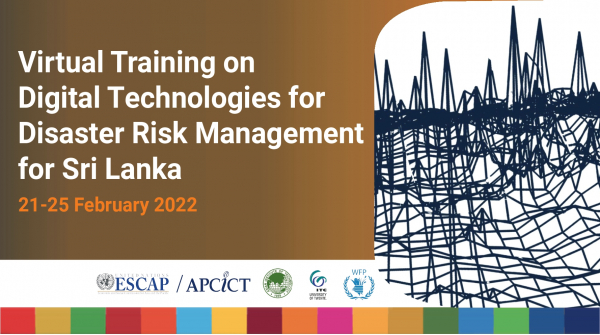 Date
Feb 21st 2022 - Feb 25th 2022
Organizer
Asian Institute of Technology, ITC University of Twente, World Food Programme (WFP) Sri Lanka, APCICT/ESCAP
Location
Colombo, Sri Lanka
In its continuous effort to strengthen the capacities of government officials on the use of ICT for disaster risk management, the Asian and Pacific Training Centre for ICT for Development (APCICT/ESCAP) is conducting a training on Digital Technologies for Disaster Risk Management for Sri Lanka from 21 to 25 February 2022.
The 5-day training is organized in partnership with the World Food Programme (WFP) Sri Lanka, the Geoinformatics Center of the Asian Institute of Technology, and the ITC University of Twente, with the aim of equipping government staff at the national and local levels with the essential knowledge and skills to understand the overall framework of disaster risk management.
In addition, it expects to enhance participants' understanding on how risk information can be used to select appropriate disaster risk mitigation and prevention measures at various levels and to consider future risk scenarios for more effective decision-making.
The event will be attended by DRM practitioners and government officials from ministries and departments responsible for disaster management and development subjects.