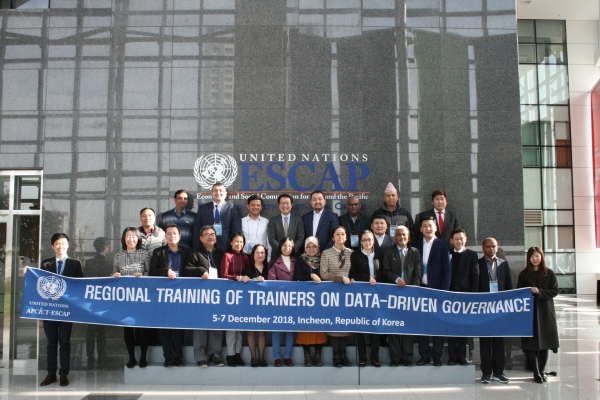 Date
Dec 5th 2018 - Dec 7th 2018
Organizer
Asian and Pacific Training Centre for Information and Communication Technology for Development (APCICT/ESCAP)
Location
Incheon, Republic of Korea
APCICT organized the Regional Training of Trainers (ToT) on Data-Driven Governance on 5-7 December 2018 in Incheon, Republic of Korea. The ToT marked the initial roll-out of the Centre's latest Academy training module on "Data-Driven Governance". The module is designed for government officials in developing countries and aims to help them understand the role of accurate, accessible, timely and reliable data in enhancing governance, formulating national policies and strategies, and delivering services. It emphasizes on the role of data to support evidence-based policymaking, and in implementing and monitoring progress on the Sustainable Development Goals.
The training deepened participants' knowledge and understanding of the policy issues related to developing and implementing data-driven governance. It also helped expand the pool of resource persons who can advocate and deliver training on the module in their countries.
The ToT was participated by 22 government officials and potential trainers from ICT ministries, data agencies, civil service organizations and training institutions from Asia and the Pacific.