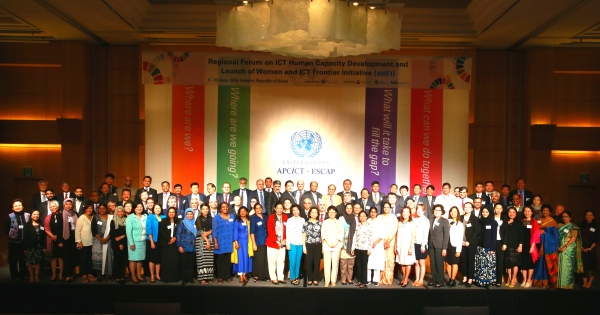 Date
Jun 9th 2016 - Jun 10th 2016
Organizer
UN-APCICT/ESCAP
UN-APCICT/ESCAP organized the Regional Forum on ICT Human Capacity Development on 9-10 June 2016 in Incheon.
To be held on the occasion of APCICT's 10th Anniversary, the meeting provided the multi-stakeholder platform to engage participants from over 50 countries in a dialogue on ICT capacity development towards a sustainable future. It will facilitate an exchange of ideas and perspectives on effective ICTD capacity building, identify lessons learned, and chart the way forward.
At the Meeting, the Centre also formally launched its newest flagship programme called Women and ICT Frontier Initiative (WIFI). WIFI aims to create socially and economically-empowered women through ICT-enabled entrepreneurship. It will strengthen the capacity of women entrepreneurs in the region to utilize ICT in support of their business as well as strengthen capacity of government leaders to create an enabling environment for ICT-empowered women entrepreneurs.
The 2-day meeting convened government leaders and policymakers as well as representatives from civil society, academia, private sector, and international organizations to engage in a dialogue on effective ICT capacity development in support of the Sustainable Development Goals (SDGs).