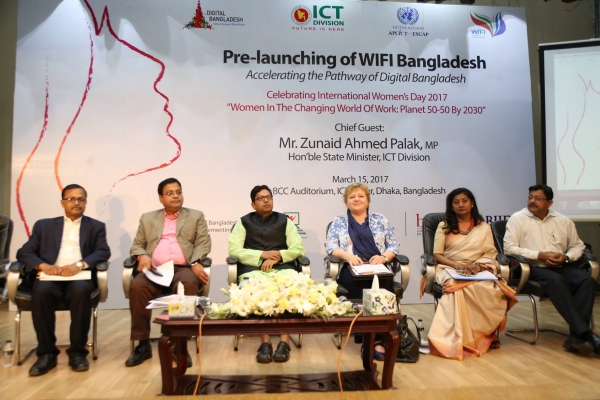 Organizer
Organized under the leadership of the ICT Division and Bangladesh Computer Council (BCC) and in cooperation with Bangladesh Institute of ICT in Development (BIID) and Bangladesh Women in Technology (BWIT)
Location
Dhaka, Bangladesh
A Women ICT Frontier Initiative (WIFI) pre-launch event was held in Dhaka on 15 March 2017 under the leadership of the ICT Division and Bangladesh Computer Council (BCC) and in cooperation with Bangladesh Institute of ICT in Development (BIID) and Bangladesh Women in Technology (BWIT).
Attended by more than 250 participants from government, development organizations, women entrepreneur associations, private sector, and academia, the event elaborated on the WIFI programme and its relevance to Digital Bangladesh, the country's national ICT strategy.
Various stakeholders expressed their interest to extend support to WIFI implementation in Bangladesh. The event was graced by Mr. Zunaid Ahmed Palak, Honorable State Minister, ICT Division and the Australian High Commissioner to Bangladesh.
About the Women ICT Frontier Initiative (WIFI)
Launched in June 2016, the Women ICT Frontier Initiative (WIFI) is a flagship ICT human capacity development programme of APCICT that aims to create socially and economically-empowered women through ICT-enabled entrepreneurship in Asia and the Pacific. Capacity building programmes target potential and current women entrepreneurs on how to use ICT in support of their businesses.  It also supports policy makers and government officials on creating an enabling policy environment. More information is available at www.unapcict.org/wifi