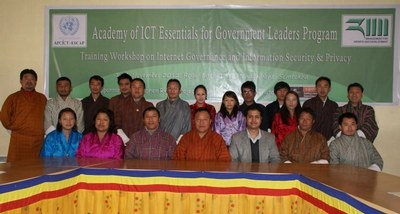 The Royal Institute of Management delivers Academy training for government officials and private sector IT managers
On 16 November, the Royal Institute of Management (RIM) organized a capacity building workshop in Thimphu, Bhutan utilizing two modules from APCICT's flagship programme the "Academy of ICT Essentials for Government Leaders" (Academy).  Sixteen participants from government and the private sector received training from national resource persons on Academy modules 5 – Internet Governance, and 6 – Information Security and Privacy.  
The training was part of Bhutan's Chiphen Rigpel "Empowering a Society, Enabling a Nation" project, which is designed to provide ICT training to all sectors of society in order to move Bhutan into the Information Age.
APCICT, in partnership with RIM and the Ministry of Information and Communication, officially launched the Academy programme in Bhutan in July 2011.