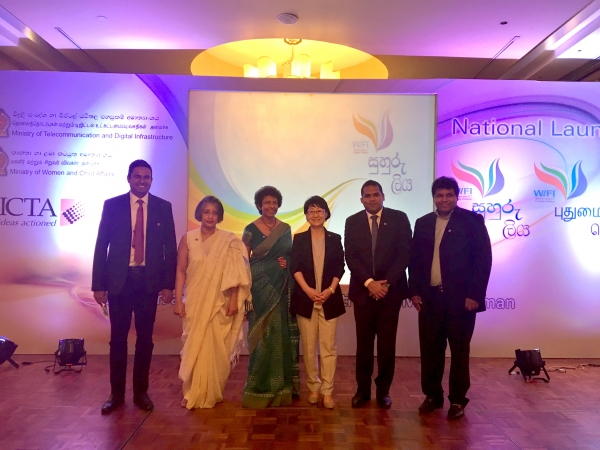 Organizer
The Asian and Pacific Training Centre for Information and Communication Technology for Development
Location
Colombo, Sri Lanka
The Women and ICT Frontier Initiative (WIFI), a flagship programme of the Asian and Pacific Training Centre for Information and Communication Technology for Development, was launched on 26 September 2016 in Colombo, Sri Lanka.
WIFI is an ICT capacity development programme for promoting women entrepreneurship. In Sri Lanka, the programme is known as WIFI Suhuruliya or WIFI SMART Woman. It aims to promote the economic empowerment of women in Sri Lanka through the use of ICT in entrepreneurial activities.
Organized in partnership with the Information and Communication Technology Agency (ICTA) of Sri Lanka, the WIFI launch was attended by around 80 senior government officials and stakeholders in entrepreneurship and women's empowerment. The inaugural session introduced to the key stakeholders the WIFI programme and the importance of ICT capacity development for women entrepreneurs.
In its initial roll-out, WIFI Suhuruliya will be targeted to 'war widows' or female household heads in post-conflict Sri Lanka. The launch event was followed by Training of Trainers (ToT) on 27 – 28 September and a community workshop in the northern province in the country – Jaffna district (01 Oct) , areas that were severely affected by the civil war. Participants of the ToT, drawn from district-level development workers working in government and civil society, will serve as resource persons in the community workshops.  
The workshops drew a combined audience of 150 participants comprising of current and potential women entrepreneurs, representatives of community organizations, and government officials working at grassroots level.
APCICT officially launched WIFI in June 2016 in Incheon. Since then, many countries have signified their interest to adopt and localize the programme. To facilitate an exchange of experiences among APCICT's national partners and learn from Sri Lanka's WIFI implementation, the launch event was attended by representatives from Bhutan, Cambodia, India, and the Philippines.
About the Women and ICT Frontier Initiative (WIFI)
The Women and ICT Frontier Initiative is a flagship ICT human capacity development programme of APCICT that aims to create socially and economically-empowered women through ICT-enabled entrepreneurship in Asia and the Pacific. Capacity building programmes target potential and current women entrepreneurs on how to use ICT in support of their businesses.  It also supports policy makers and government officials on creating an enabling policy environment. More information is available at www.unapcict.org/wifi.