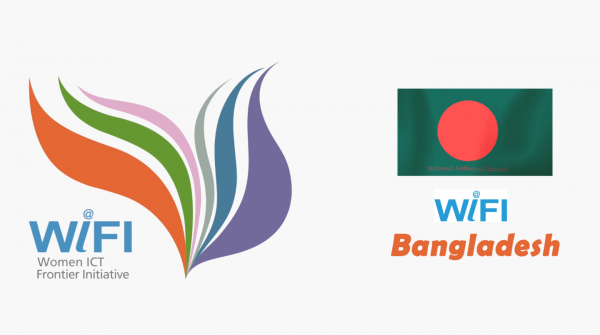 Date
Jul 3rd 2017 - Jul 5th 2017
Organizer
APCICT/ESCAP, ICT Division under the Ministry of Posts, Telecommunications and Information Technology (MPTIT)
Location
Dhaka, Bangladesh
The Asian and Pacific Training Centre for ICT for Development, in cooperation with the ICT Division of Bangladesh, launched the Women ICT Frontier Initiative (WIFI) in Dhaka on 3-5 July 2017.
Launched in June 2016, the Women ICT Frontier Initiative is APCICT's flagship ICT capacity development programme for creating socially and economically-empowered women through ICT-enabled entrepreneurship. Training programmes target potential and current women entrepreneurs on how to use ICT in support of their businesses.  It also supports policymakers and government officials on creating an enabling policy environment for ICT-empowered women entrepreneurs.
The Government of Bangladesh is adopting the WIFI programme in line with its national ICT strategy called Digital Bangladesh, that aims to transform the country into a modern and inclusive knowledge-based society by 2021, not only through development of countrywide ICT infrastructure but also ICT human resource development. Under WIFI, the ICT Division is aiming to provide ICT and entrepreneurship training to 30,000 women entrepreneurs in the country by 2018.
The implementation of the WIFI programme in the country is undertaken through the cooperation and partnership of stakeholders from government, civil society, and women's groups and entrepreneur associations. Implementing partners include the Bangladesh Computer Council, the Department of ICT under the ICT Division, Bangladesh Institute of ICTs in Development, and Bangladesh Women in Information Technology.
The ceremonial launch in Dhaka was held on 5 July and graced by high-level representatives from the government, including the Speaker of the Bangladesh Parliament and State Ministers from the Ministry of Posts, Telecommunications and Information Technology and the Ministry of Women and Child Affairs.
Prior to the ceremonial launch, a Training of Trainers (ToT) in two tracks - for women entrepreneurs and policymakers – was organized on 3-4 July with the aim of expanding the pool of national resource persons who can support the delivery of WIFI training in Bangladesh. The TOT for women entrepreneurs introduced to potential trainers the key concepts of women's empowerment and entrepreneurship; present challenges faced by women with regard to access and use of ICT; and the role of ICT in supporting women's businesses.  The session for policymakers focused on the importance of a gender-responsive government, including appropriate policies and support programmes, in order create an environment conducive for women entrepreneurship.