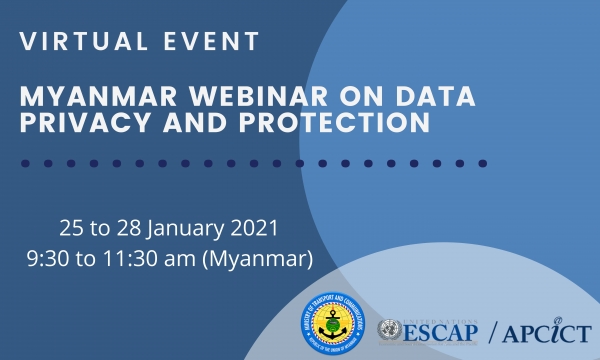 Date
Jan 25th 2021 - Jan 28th 2021
Organizer
APCICT/ESCAP, National Cyber Security Center (NCSC), Information Technology and Cyber Security Department, Ministry of Transport and Communications of Myanmar
Location
Virtual (Myanmar)
In line with its efforts to promote data protection and privacy in ASEAN countries, the Asian and Pacific Training Center for ICT for Development (APCICT) under the United Nations Economic and Social Commission for Asia and the Pacific conducted a virtual seminar on Data Privacy Law for Myanmar.
The event was co-organized with the National Cyber Security Center (NCSC), Information Technology and Cyber Security Department, Ministry of Transport and Communications of Myanmar and was held from 25 to 28 January 2021.
The training was held with the aim to enhance understanding among policymakers, regulators and civil servants on the importance of data privacy and protection; emphasize the role of data privacy legislation; and to share information on international frameworks and good practices, including from ASEAN countries.