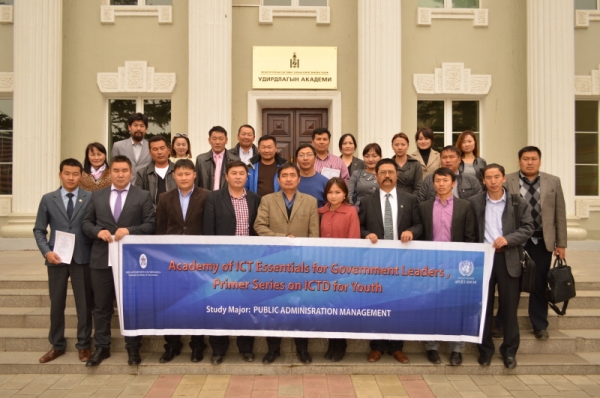 Date
Oct 23rd 2013 - Oct 27th 2013
Location
Ulaanbaatar, Mongolia
The Mongolian National Academy of Governance holds workshop on e-Governance in Ulaanbaatar, Mongolia.
On 23–27 Sept. 2013, the National Academy of Governance of Mongolia organized a 5-day training workshop on e-Governance covering several modules of APCICT's flagship programme the Academy of ICT Essentials for Government Leaders Academy (Academy).
 The workshop, attended by 31 officials from the Department of Public Administration and Management and Ministries, offered training on the Linkage between ICT Application and Meaningful Development (Module 1), ICT Development Policy and Process (Module 2), e-Government Applications (Module 3), ICT Trends for Government Leaders (Module 4), Information Security and Privacy (Module 6), ICT Project Management in Theory and Practice (Module 7),  ICT for Disaster Risk Management (Module 9) and Social Media for Development (Module 11). Sessions were imparted by members of the Academy and the Information, Communications, Technology and Post Authority (ICTPA) of Mongolia. This comprehensive workshop helped enhance awareness of the potential of ICT for development and provided officials with relevant knowledge for the execution of ICT policies and programs.
The first roll-out of the Academy was undertaken in 2008. Thus far, APCICT and partners in the country have successfully organized 25 Academy-related workshops. Eight Academy modules have been translated into Mongolian.