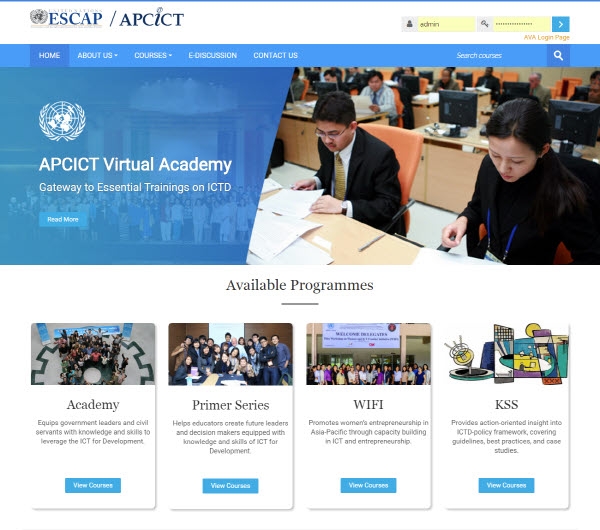 Organizer
Asian and Pacific Training Centre for Information and Communication Technology for Development (APCICT/ESCAP), ICT Division under the Ministry of Posts, Telecommunications and Information Technology
Location
Incheon, Republic of Korea
The Asian and Pacific Training Centre for ICT for Development launched a revamped version of its distance learning platform, APCICT Virtual Academy – http://e-learning.unapcict.org, on 16 October 2017.
The APCICT Virtual Academy, an online distance learning platform launched in June 2009, is part of APCICT's multi-channel delivery strategy to expand the reach of its flagship ICT for development (ICTD) capacity building programmes.
AVA allows learners to access the Centre's online courses designed to enhance their knowledge on basic and advanced topics on ICT for development. It offers training on all modules covered by the Academy of ICT Essentials for Government Leaders (for government leaders and civil servants); the Primer Series on ICTD for Youth (for universities); and other related courses. Customized versions are also available in Indonesian, Russian, Vietnamese and Chinese languages.
The enhancement of the platform mainly focused on addressing the limited accessibility of the mobile users and reinforcing the functionalities for security and learning experience. The key features of the revamped APCICT Virtual Academy include:
Better access for mobile and desktop devices through responsive user interface
Improved user navigation through restructure and reorganization of content
Interactive learning through HTML5-based course material and e-Discussion forum
For more information on AVA, please contact Mr. Byeongjo Kong (kongb@un.org).
About the APCICT Virtual Academy (AVA)
Through APCICT Virtual Academy, APCICT delivers online training of flagship ICTD capacity building programmes; the "Academy of ICT Essentials for Government Leaders"  (Academy), the "Primer Series on ICTD for Youth"  (Primer Series), a programme for university students, and the "Knowledge Sharing Series" (KSS). More information is available at http://e-learning.unapcict.org.