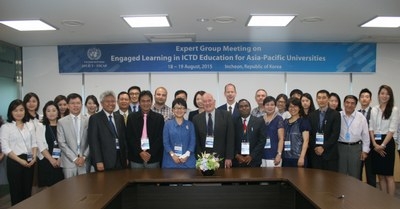 Date
Aug 18th 2015 - Aug 19th 2015
Location
Incheon, Republic of Korea
Committed to strengthen institutional and human capacity in utilizing information communication technology for development (ICTD) with a particular focus on youth, APCICT organized the 'Expert Group Meeting on Engaged Learning in ICTD Education in Asia-Pacific Universities' on 18 – 19 August 2015, in Incheon, Republic of Korea.
In line with Sustainable Development Goal 4.7, which emphasizes that learners acquire the knowledge and skills to promote development goals, APCICT's engaged learning project aims to advocate the importance of linking classroom learning with actual community development.
The meeting also reviewed the two draft APCICT publications, the Engaged Learning Toolkit for ICTD Faculty and Community and the Engaged Learning Guidebook for ICTD Students, prepared in collaboration with Cornell University, USA. The participants, including professors, educators, experts and students in Asia-Pacific discussed strategies for improving the quality of the publications as well as measuring their effectiveness through field testing.