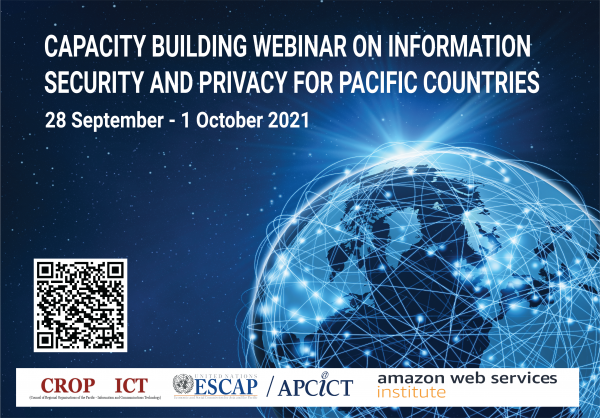 Date
Sep 28th 2021 - Oct 1st 2021
Organizer
Council of Regional Organizations of the Pacific (CROP) ICT Working Group, Amazon Web Services Institute, APCICT/ESCAP
As the Pacific sub-region is still in the early stages of developing and improving national ICT infrastructure and cybersecurity capabilities, assistance is required in building cybersecurity capability, formulating guiding frameworks for long-term national cybersecurity and addressing information security and privacy gaps. 
In this prospect, the Asian and Pacific Centre for ICT for Development, in partnership with the Council of Regional Organizations of the Pacific (CROP) ICT Working Group and Amazon Web Services Institute conducted a Capacity Building Webinar on Information Security and Privacy for the Pacific countries from 28 September to 1 October 2021. 
The webinar expected to deepen understanding about the need for information security; issues and trends; and the process of formulating an information security strategy. It also facilitated the sharing of good practices, including standards of information security and privacy protection that are used by some countries and international information security organizations.
The meeting was attended by government officials from ICT ministries, the telecommunication sector, regulatory authorities and related agencies from the Pacific.