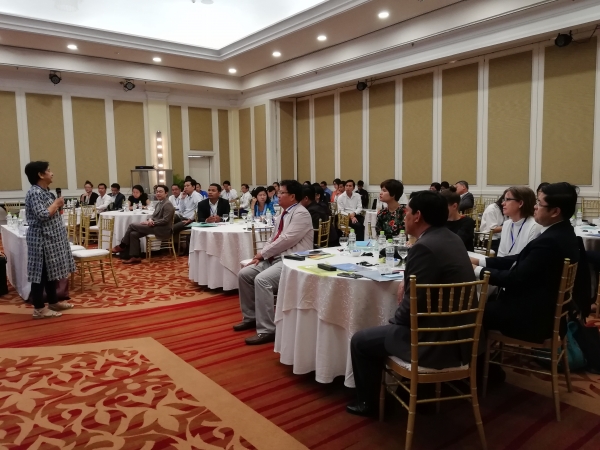 Date
Apr 29th 2019 - Apr 30th 2019
ESCAP organised a National Consultation on Enabling Environment for Women's Entrepreneurship in Cambodia on 29 April 2019 followed by a National Training for Policymakers on ICT and Women Entrepreneurship on 30 April 2019.
The national consultation brought together between 70-80 government leaders and policy makers from key ministries and agencies in the areas of gender equality, SME development, trade, ICT, planning, and economy and finance as well as representatives and stakeholders from the private sector, non-government organizations, (women's) business associations and donor agencies. It provided a platform for policy dialogue and networking among key concerned stakeholders to discuss the needs, constraints and actions to foster women's entrepreneurship in Cambodia.
Following the national consultation, APCICT, organised a training on ICT for women entrepreneurship for 40 government officials across multiple ministries and agencies involved in implementing programmes for supporting women entrepreneurship and financial inclusion. The training aimed to enhance understanding among participants on the enabling role of digital technologies, the gaps and barriers that constrain women from using ICTs in their businesses, and the need for gender-responsive policies and programmes to support ICT-enabled women entrepreneurship.
These initiatives are in line with ESCAP's efforts to realize SDG 5 on Gender Equality and are an integral part of its five-year (2019-2023) regional programme on "Catalyzing Women's Entrepreneurship - Creating a Gender-Responsive Entrepreneurial Ecosystem" funded by the Government of Canada. The project endeavors to advance women's economic empowerment and contribute to poverty reduction in the Asia-Pacific region.
For more information, please visit https://www.unescap.org/events/catalyzing-women-s-entrepreneurship-cambodia-launch-national-consultation-and-training-policy 
APCICT can also be contacted at apcict@un.org.