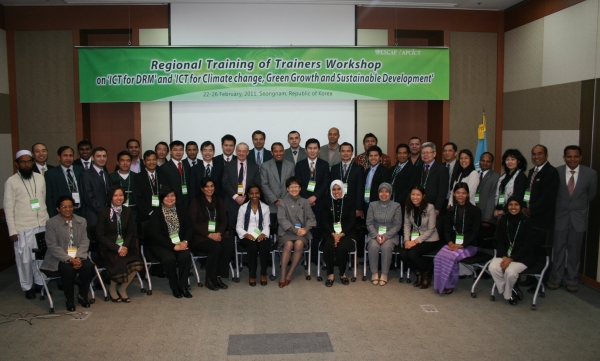 Date
Feb 22nd 2011 - Feb 26th 2011
Location
Seongnam, Republic of Korea
Looking to enhance climate change and disaster management capacity, over forty government officials and international organization representatives join APCICT workshop in the Republic of Korea.
The United Nations Asian and Pacific Training Centre for Information and Communication Technology for Development, a regional institute of the United Nations Economic and Social Commission for Asia and the Pacific (UN-APCICT/ESCAP), kicked off the Fourth Regional Training of Trainers Workshop in Seongnam, Republic of Korea. The five-day workshop runs 22-26 February, and will deliver training on the use of information and communication technology (ICT) for disaster risk management and climate change abatement.
As is now widely accepted by the scientific community and the general public, climate change constitutes a major threat to the earth's ecosystems and combating this threat is important to salvage our future development.  There is also general agreement about the impact climate change is having on the frequency and severity of disaster occurrences around the world. To abate climate change and manage disaster risk, there has been much interest and research in the use of ICT.
The Fourth Regional Training of Training Workshop welcomes forty-four disaster management, climate change and ICT officials and practitioners from twenty-one countries, and aims to develop a cadre of resource persons to help deliver training at the national and regional level on two, new upcoming modules of APCICT's "Academy of ICT Essentials for Government Leaders Programme" (Academy).
Academy Module 9 – ICT for Disaster Risk Management, and Module 10 – ICT and Climate Change, Green Growth and Sustainable Development are intended to provide government officials and development stakeholders with the knowledge and skills to apply ICT in national and regional disaster management and climate change abatement frameworks.
"APCICT is pleased to welcome such a group of professionals committed to developing the national and regional capacity necessary to meet the challenges presented by climate change and disaster occurrences," said Dr. Hyeun-Suk Rhee, Director of APCICT. "Understanding the strategic use and vast potential of ICT will provide participants with a valuable resource to enhance disaster management and climate abatement policies."
APCICT's Fourth Regional Training of Trainers Workshop, sponsored by the Korean International Cooperation Agency and Telecommunications Technology Association of Korea, will also serve to generate valuable participant-feedback on the new Academy modules before they are officially launched later this year.
To learn how ICT can be practically applied in the field, participants will spend half a day visiting the National Emergency Management Agency, Korea's national disaster management body, and a Green Grown Exhibition in Seoul.
"APCICT's effort to develop much needed regional resources and capacity for disaster management and climate change abatement is commendable," said Ms. Corazon Davis, Assistant Secretary of the Department of Environment and Natural Resources, from the Philippines. "Academy modules 9 and 10 will be important tools for participants working to build capacity and strengthen the use of ICT in their respective national and regional climate change and disaster management frameworks."
Training on Academy Module 9 will be delivered by resource persons from the Asian Disaster Preparedness Centre, which is partnering with APCICT and consolidating contributions from other experts in the area of disaster risk reduction to develop the module.
Training on ICT and climate change and green growth will be delivered by international ICT for Development expert, Richard Labelle, who is the author of Module 10.  APCICT has previously collaborated with Mr. Labelle in the development of other Academy content.
The Academy is APCICT's flagship programme and is designed to provide government officials and development stakeholders with the necessary skills to fully leverage ICT for socio-economic development (ICTD).  The Academy curriculum currently consists of eight stand-alone, yet inter-linked training modules that cover a variety of ICTD related topics.
Academy programmes have been delivered in eighteen countries throughout Asia and the Pacific since 2008.  APCICT launched the Academy in India last week.