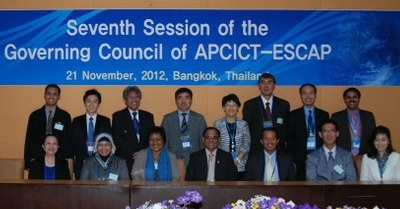 Location
Bangkok, Thailand
On 21 November, APCICT organized the Seventh Session of the Governing Council of APCICT-ESCAP in Bangkok, Thailand. The 7th Session welcomed the Governing Council's 9 elected representatives from Bangladesh, Cambodia, India, Indonesia, Pakistan, the Philippines, Sri Lanka, the Republic of Korea and Thailand, as well as partners from APCICT's capacity development programmes.
Participants of the meeting reviewed APCICT's work programme and achievements since the Sixth Governing Council session held in 2011, and discussed the Centre's plans and ICT capacity development initiatives for 2013. 
Governing Council members and APCICT partners also participated in the ESCAP organized Committee on ICT (CICT), which brought together regional government officials to address issues related to ICT in development policies, plans and programmes, and the application and transfer of ICT.  As part of the CICT meeting, APCICT organized a panel discussion on the importance of national and regional capacity building in ICT for development.