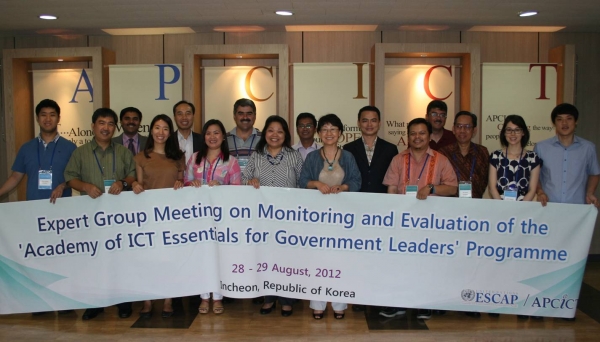 Date
Aug 28th 2012 - Aug 29th 2012
Location
Incheon, Republic of Korea
Regional experts from government, academia, civil society and the private sector, and the United Nations hub for information and communication technology for development (ICTD) gather to enhance monitoring and evaluation tools for ICTD capacity building programmes.
The Asian and Pacific Training Centre for Information and Communication Technology for Development (UN-APCICT/ESCAP) today concluded an Expert Group Meeting towards strengthening Monitoring and Evaluation (M&E) of APCICT's "Academy of ICT Essentials for Government Leaders" (Academy) programme. The Academy equips government officials and development practitioners with the skills and knowledge to leverage ICT for socio-economic development.
Over the two-day meeting, 28-29 August, 8 Academy programme partners from Cambodia, Indonesia, the Philippines, and Tajikistan examined various dimensions of a new 'M&E Toolkit' that is under development for the Academy. The M&E Toolkit is a generic tool designed to help Academy partners better capture the progress and impact of the Academy programme in different national contexts.
"The results of this unique gathering will help to strengthen monitoring and evaluation of APCICT's flagship capacity development programme, and provide Academy partners throughout the region with the practical tools to do so." said Dr. Hyeun-Suk Rhee, Director of UN-APCICT/ESCAP.
Participants of the Expert Group Meeting reviewed the Toolkit and concretized plans to customize and apply it in the field over the coming months. The outcomes and lessons learned from the field application will subsequently be presented at a regional meeting of Academy partners to be held later this year.
"This gathering of M&E experts and facilitators was an important opportunity to share first-hand perspectives and develop resources that will help to increase the efficiency and effectiveness of ICT for development training programmes and frameworks, at the national and regional-levels," noted Ms. Yvette Cabrera, Senior Competency Standards Specialist from the Information and Communications Technology Office of the Philippines.  
The M&E Toolkit and this week's Expert Group Meeting are a part of APCICT's continuous effort to strengthen the impact and reach of the Academy programme, which was first launched in June, 2008 during the OECD Ministerial Meeting on the Future of the Internet Economy in Seoul, Republic of Korea.
Since then, the Academy has been rolled-out in 26 Asia-Pacific as well as Africa and the Middle-East. It is available in 9 languages and has reached over 12,000 participants through face-to-face and online course enrolments.