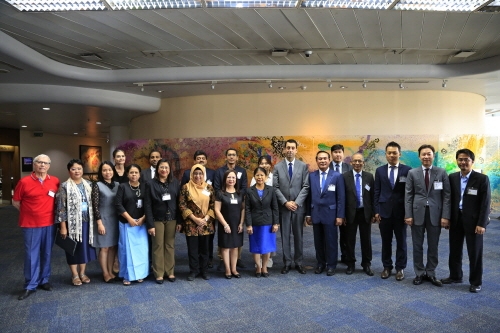 Organizer
United Nations Asian and Pacific Training Centre for Information and Communication Technology for Development (UN-APCICT/ESCAP)
Location
ESCAP (Bangkok, Thailand)
The 13th Session of the APCICT Governing Council was held on 31 August 2018 in Bangkok, in conjunction with the Second Session of the ESCAP Committee on Information and Communications Technology, Science, Technology and Innovation (CICTSTI), which took place on 29-31 August 2018. 
The Governing Council reviewed the administrative and financial status of the Centre; the work undertaken by APCICT since the last Council session in December 2017; and the proposed work plan for 2019. The meeting was an opportunity for Council members to provide recommendations and advice on the future direction of the Centre's ICT capacity development work.
In addition to the Republic of Korea, the host country of the Centre, ESCAP, at its 74th session in May 2018, elected the following countries as members of the Governing Council for the period 2018–2021: Bangladesh, Cambodia, India, Indonesia, Philippines, Russian Federation, Sri Lanka and Thailand.