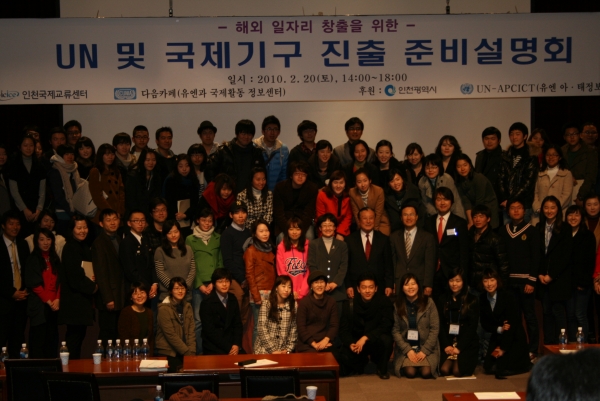 Location
Incheon, Republic of Korea
This month, APCICT will deliver a series of presentations to a variety of target audience in the Republic of Korea. The speaking engagements are designed to promote the regional and international development work of APCICT and the United Nations in the Asia-Pacific region
UN-APCICT to deliver presentations in Republic of Korea promoting capacity development work in the Asia-Pacific region
This month, the Asian and Pacific Training Centre for Information and Communication Technology for Development (APCICT) will deliver a series of presentations to a variety of target audience in the Republic of Korea.  The speaking engagements are designed to promote the regional and international development work of APCICT and the United Nations in the Asia-Pacific region:
 - On 2 May, APCICT will engage close to 200 students from the University of Incheon to discuss socio-economic development issues, and how students can get involved and work with international organizations like the United Nations.  Students will also learn how ICT can be used for development (ICTD), and what APCICT is doing to enhance ICTD education at institutions of higher learning throughout the Asia-Pacific region including the Centre's efforts towards developing an ICTD learning module that can be utilized in programmes and majors in universities and colleges.
 
 - On 12 May, APCICT will address over 100 young professionals in Seoul about careers in international development.  The presentation will be part of the Ministry of Foreign Affairs and Trade (MOFAT)'s ongoing special lecture series designed to give young Korean professionals the opportunity to learn from the experiences of other Korean nationals working with international organizations.
  
 - On 17 May, APCICT will welcome 8 elected representatives from the Incheon City Government who will visit the Centre to learn about APCICT and ESCAP's work to achieve the Millennium Development Goals in the Asia-Pacific region.  Incheon City has been a strong APCICT partner and has hosted the Centre since its establishment in June, 2006.