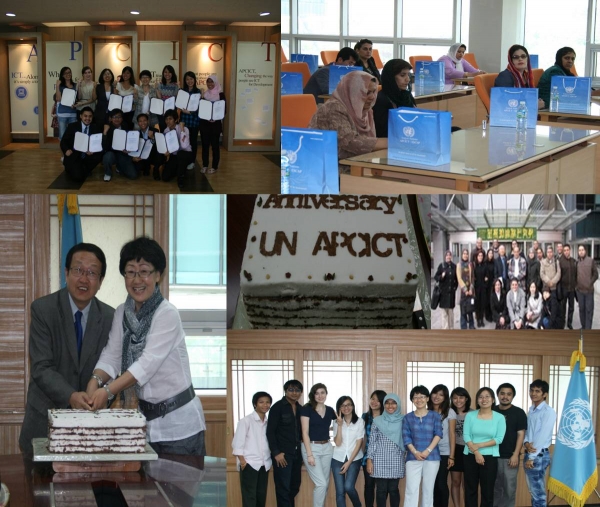 Location
Incheon, Republic of Korea
APCICT to celebrate 5th Anniversary, publish ICTD glossary and directory of regional training institutions, support e-Government training of Moroccan officials in Korea, and welcome International Students for UN Internship.
APCICT to release new publications on 5th Year Anniversary
On 16 June, the Asian and Pacific Training Centre for Information and Communication Technology for Development (APCICT), in celebration of its 5th year anniversary, will publish two new knowledge products online in support of human resources and institutional ICT capacity development across the Asia-Pacific region.
The Directory of ICT for Development (ICTD) Training Institutions in the Asia-Pacific provides ICT stakeholders with contact and background information on over 70 institutions from more than 30 countries in the region which are delivering training in the field of ICTD. The Directory is also designed to enhance communication and networking between ICTD training institutions to tap synergies.
 
The Everyday ICT Terms for Policymakers and Government Officers provides officials working in the field of ICT with a better understanding of the ever growing list of ICT terms through a glossary of over 400 key terms. 
  
These two new publications are the latest additions to the extensive APCICT catalogue, which includes a variety of knowledge products published since the Centre was established on 16 June, 2006.
APCICT collaborates with Korean partners to support Moroccan e-Government training
In the spirit of inter-regional cooperation between ESCAP and other regions, APCICT will partner with the Government of Republic of Korea to provide training to over 18 government officials from Morocco using APCICT's "Academy of ICT Essentials for Government Leaders" Module 3 titled 'e-Government Applications' on 29 June, at Sungkyunkwan University in Seoul.
This will be part of a larger 2-week training programme starting from 23 June to 7 July organized by the Government of Republic of Korea for the visiting officials. The training hosted by APCICT will take place on 29 June, and be delivered by the original author of this training module. The training will provide participants with an overview of key e-government concepts and applications as well as analysis of effective e-government systems and design considerations.
This will be the second time APCICT has supported this workshop at Sungkyunkwan University, as the Centre provided Academy curriculum for the training of Moroccan officials during their visit to Korea in March, 2010. 
Last week, APCICT welcomed over 20 delegates from Afghanistan visiting Korea as part of a training workshop on Gender Equality Policy Development for Afghanistan.  Delegates attended a presentation describing APCICT's ICT capacity development in Afghanistan and among women in the Asia-Pacific region.
APCICT welcomes UN Interns seeking to learn more about ICT for development 
This month, APCICT will welcome two United Nations Interns for a 3 month experience that will expose them to the work of the centre and the role of ICT in Asia-Pacific socio-economic development.
The UN interns will work with APCICT to deliver its programmes and will have the opportunity to learn how APCICT partners with regional governments, international organizations, academia and other stakeholders to strengthen ICT capacity across the Asia-Pacific and beyond.  The interns will also have the opportunity to carry-out ICT for development research related to their own graduate studies. 
Since 2007, APCICT has welcomed over 20 students as part of the United Nations Internship Programme. APCICT welcome UN Intern applications year round.
APCICT engages young people through a variety of channels. Since 2008, APCICT has welcomed over 20 ASEAN students as participant of the Young ICTD Leaders Programme, which aims to increase the ICT for Development (ICTD) capacity of the next generation of leaders through exposure to ICT projects and greater access to ICTD course content at the undergraduate and graduate level.  Students from universities in Korea also regularly volunteer with APCICT in support of events which the Centre organizes in Korea.
To learn more about internship and volunteer opportunities, please visit the APCICT Website.