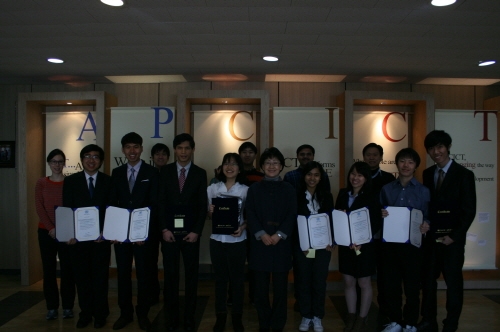 Location
Incheon, Republic of Korea
APCICT kicks off 2013 with a wide range of ICTD initiatives, welcoming the 2013 cohort of ASEAN students as part of the Turning Today's Youth into Tomorrow's Leaders Programme, launching an ICT capacity development Monitoring and Evaluation Toolkit through the Centre's online distance learning platform, and organizing an Expert Group Meeting on new ICTD training materials.
On 07 January, eight ASEAN students from Cambodia, Lao PDR and Viet Nam will join APCICT for two months as part of the Centre's 'Turning Today's Youth into Tomorrow's Leaders' programme. The programme is designed to strengthen the ICT for development capacity of youth throughout the Asia-Pacific region. APCICT will host the ASEAN students until the end of February in partnership with Daejeon University, the Ministry of Foreign Affairs and Trade of the Republic of Korea, and the ASEAN University Network. APCICT will provide the students with work exposure designed to enhance awareness of the application of ICT for development (ICTD). APCICT has welcomed 31 ASEAN exchange students since 2008.
On 09 January, APCICT will launch the Academy Monitoring & Evaluation Toolkit on its online distance learning platform. The M&E Toolkit is designed to help APCICT's partners of the "Academy of ICT Essentials for Governments Leaders Programme" (Academy) better capture the progress and impact of the programme in different national contexts. The Academy equips government officials and development practitioners with the skills and knowledge to leverage ICT for socio-economic development. The M&E Toolkit will be launched on the APCICT Virtual Academy, which also makes available current Academy training modules for online learning.
In early February, APCICT will organize an Expert Group Meeting for the development of new training content. The meeting will welcome regional ICT experts to discuss and plan the development of the upcoming Academy module on Social Media and a new issue on Government Chief Information Officer training for the APCICT Knowledge Sharing Series.