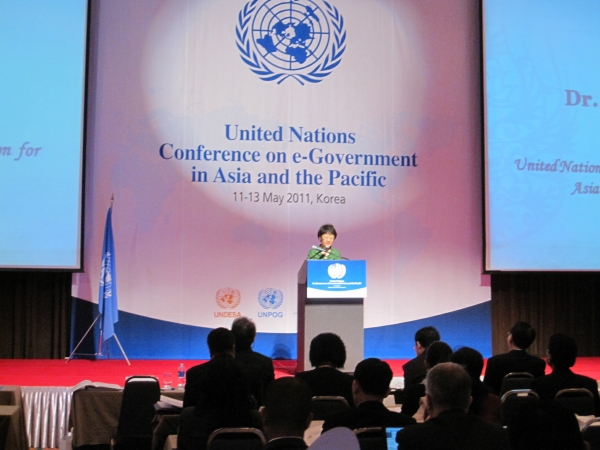 Location
Incheon, Republic of Korea
This month UN-APCICT/ESCAP will support Timor-Leste's Directorate National of Information and Communication Technology to deliver an "Academy of ICT Essentials for Government Leaders" workshop, and participate in the International Youth Forum in the Republic of Korea to raise awareness on ICT for development.
APCICT continues to support South-South cooperation to enhance ICT capacity in Timor-Leste
APCICT partners, the Directorate National of Information and Communication Technology of Timor-Leste's Ministry of Infrastructure (DNICT) and the University of Indonesia (UoI), will organize the 3rd National Academy Workshop in Dili, Timor-Leste with the support of APCICT on 8 – 12 August.
The 60 government officials, policymakers and district leaders participating in the 3rd National Workshop, also completed training during the first two Academy workshops in Timor-Leste. The first workshop which launched the Academy programme in Timor-Leste was held in July, 2009, while the second national workshop took place in April, 2010.
The 3rd National Workshop will deliver training on four Academy modules: Module 5 – Internet Governance; Module 6 – Network and Information Security and Privacy; Module 7 – ICT Project Management in Theory and Practice; and Module 8 – Public-Private Partnerships in ICT for Development.  Modules 1-4 were delivered during the first two National Academy workshops.
Continuing efforts to promote South-South cooperation, APCICT is sponsoring two Academy resource persons from the University of Indonesia (UoI) to facilitate the training in Timor-Leste. Working with APCICT, the UoI has taken an important role in delivering the Academy in the country.  APCICT had also supported the participation of Academy resource persons from UoI in each of the first two Academy workshops in Timor-Leste.
APCICT promotes importance of ICTD for youth
On 18 August, APCICT will deliver the keynote address to over 180 youth from different parts of the world at the 22nd International Youth Forum to be held in Seoul, Republic of Korea from 17-24 August.  This forum is hosted by the Ministry of Gender Equality and Family of the Republic of Korea, organized by the National Council of Youth Organizations in Korea (NCYOK), and sponsored by the World Assembly of Youth (WAY), the European Youth Forum (YFJ), and the ASEAN University Network (AUN).
As the theme of the Forum is "Technological Advancement and Future Society", APCICT will use the occasion to promote the importance of building ICT capacity among the next generation, and highlight some of the work the Centre and the international community is carrying-out to help turn today's youth into tomorrow leaders.