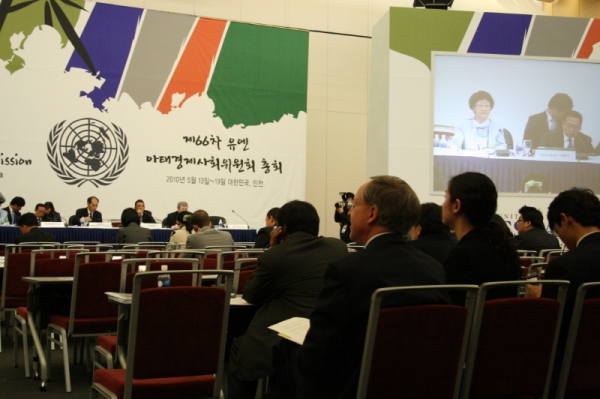 Location
Incheon, Republic of Korea
APCICT to continue strengthening ICT human resource and institutional capacity in the region.
INCHEON, REPUBLIC OF KOREA – Asia-Pacific leaders conclude annual conference with resolution in support of regional United Nations information and communication technology (ICT) capacity building institution.
The United Nations Asian and Pacific Training Centre for Information and Communication Technology for Development (UN-APCICT/ESCAP), one of five regional institutions of the United Nations Economic and Social Commission for Asia and the Pacific (ESCAP), was established in 2006 with a mission to help ESCAP member States achieve socio-economic development through the use of ICT, and is located in Incheon, Republic of Korea.  For the last four years, APCICT has worked to enhance the human resource and institutional ICT capacity of ESCAP member and associate members States by providing training, advisory, research and knowledge sharing services to government partners and other capacity building organizations.
"The adoption of today's resolution is a confirmation of the strong demand for ICT capacity building services in the Asia-Pacific region, and an affirmation of APCICT's commitment to meeting this demand," said Hyeun-Suk Rhee, Director of APCICT. "We look upon this outcome as encouragement and an inspiration to strive even harder to serve the ICT capacity building needs of ESCAP member States."
The resolution tabled by the Government of the Republic of Korea (ROK) which described the performance of APCICT as "successful" and sought continuation of its operation beyond the original five year mandate, was adopted with resounding support and was co-sponsored by 12 member and associate member States. The Government of ROK also reaffirmed its commitment to continue supporting the Centre financially after 2011.  
The resolution establishing APCICT was tabled by the Government of the Republic of Korea and adopted at the 61st Commission Session in Bangkok, Thailand, in 2005. The 66th Session of ESCAP began May 13 with government leaders from the Asia-Pacific region meeting to discuss the challenges facing Asia and the Pacific and to propose a coordinated response.  The seven-day session included a high-level meeting of heads of state and cabinet ministers aimed at ensuring that Asia's early rebound from the economic crisis results in sustainable and inclusive economic growth throughout the region.
The 66th Commission Session marks the second time the Republic of Korea has hosted the event.  The 47th session was held in Seoul in 1991.