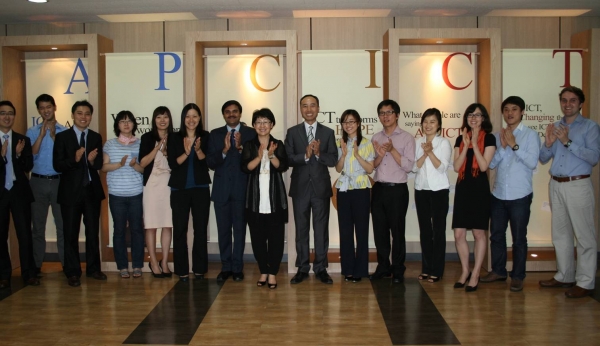 Location
Incheon, Republic of Korea
On 16 June, APCICT celebrates its 5 year anniversary as a regional institute of UNESCAP. APCICT was established in 2006, to help build the capacity of countries within the Asia-Pacific region through training programmes, research and advisory services in the use of ICT for socio-economic development.
Dear APCICT Friend,
On the occasion of the 5th Anniversary of the United Nations Asian and Pacific Training Centre for Information and Communication Technology for Development (UN-APCICT/ESCAP), I would like to extend our deepest appreciation to the partners and friends who have made the success of the first 5 years of the Centre possible.  Through your support, APCICT has become a permanent capacity building arm of ESCAP that continue advancing the ICT capacities of member and associate member States to achieve socio-economic development and bridge the digital divide.
Looking back, APCICT has continuously strived to provide relevant and value-added training, research and advisory services through inclusive and participatory approaches to programme design, implementation and delivery.  Some of the noteworthy accomplishments of APCICT include:
Building ICTD capacities through the "Academy of ICT Essentials for Government Leaders" (Academy):  Equipping government officials with the skills to leverage ICT for development through 10 training modules, the Academy has been rolled-out in 19 countries, trained 6,500 participants, and translated into Bahasa Indonesia, Khmer (Cambodia), Mongolian, Pashto (Afghanistan), Myanmar language, Russian and Vietnamese since its launch in 2008.
Extending the benefits of the training through the APCICT Virtual Academy (AVA): Extending the reach of Academy training to a greater audience, the AVA e-learning platform has had over 4,000 course enrolments from 116 countries. 
Sharing ICTD knowledge through ICT Knowledge Products and the e-Collaborative Hub (e-Co Hub): Enhancing online ICTD knowledge sharing and collaboration, e-Co Hub houses over 525 ICTD resource, and has been utilized by over 38,000 visitors. APCICT has published over 70 ICTD resources covering the spectrum of ICTD topics.  
Making lasting changes at the policy level: APCICT programmes and services have been integrated into the national ICTD human capacity building frameworks and policies in a number of countries in the region, thus building a stronger foundation for sustained impact.
These milestones were only possible due to the tremendous support of ESCAP members and associate members states, and in particular the government of the Republic of Korea, including the Incheon Metropolitan City Government, Korean Communications Commission and the Ministry of Foreign Affairs and Trade.
Our deepest gratitude is extended to APCICT's partners and all those who have made invaluable contributions to the Centre's work. The strong leadership and committed partnership demonstrated by all these individuals, governments and institutions have planted the seeds of human and institutional capacity building that are driving ICTD capacity development in the region and beyond.
As APCICT moves forward, the Centre is committed to expanding the reach and target audience of its programmes and services, introducing new products to meet emerging development challenges and opportunities and strengthening partnerships.  In the coming year alone APCICT will:
Launch 3 new Academy modules to strengthen use of ICT to manage disaster risk, adapt to climate change and develop green growth. 
Enhance ICTD training for youth through the launch of an ICTD learning module to be used at institutions of higher learning.
Develop a series of "How-to-do" manuals to enhance the capacities of policymakers to formulate and execute ICTD policies and programmes.
In support of these initiatives, and in celebration of APCICT's 5 Year Anniversary, the Centre will welcome over 300 participants to Incheon, Korea to participate in a 2nd Regional Forum on ICT Human Capacity Building, entitled "Where we are, where are we going and what will it take to fill the gap?", on 24-28 October, 2011, that will aim to reflect on our achievements and unmet challenges, build consensus on our ICTD goals, and drive commitment to a course of action to achieve our goals.
Once again thank you for your support of APCICT. We look forward to continuing our collaboration to fulfil the opportunities presented by ICTs in the Asia-Pacific and beyond. Together, and through ICT, we can transform our HOPE into reality.
Warm Regards,
Hyeun-Suk Rhee, Ph.D
Director,
UN-APCICT/ESCAP